It's now 2020, and the original article written in 2018 still holds up! We are in the peak times of Coronavirus, and I did add a few bits of new information. If you've been putting off your website for decades already, NOW is the perfect time.
It's 2018. Why does your business not have a website yet? Or, it's 2018, this is the year you start that business and get it off the ground! And for that, you'll also need a website. You see, your website is the hub of your brand. Yes, some people get Instagram famous or create a brand that lives entirely on one social media platform, but by and large, nearly every business has a website and/or a blog to contain relevant information and additional monetization techniques. If you're just getting into the digital game, you absolutely must have a website. And I highly highly suggest you start with WordPress.
Why WordPress?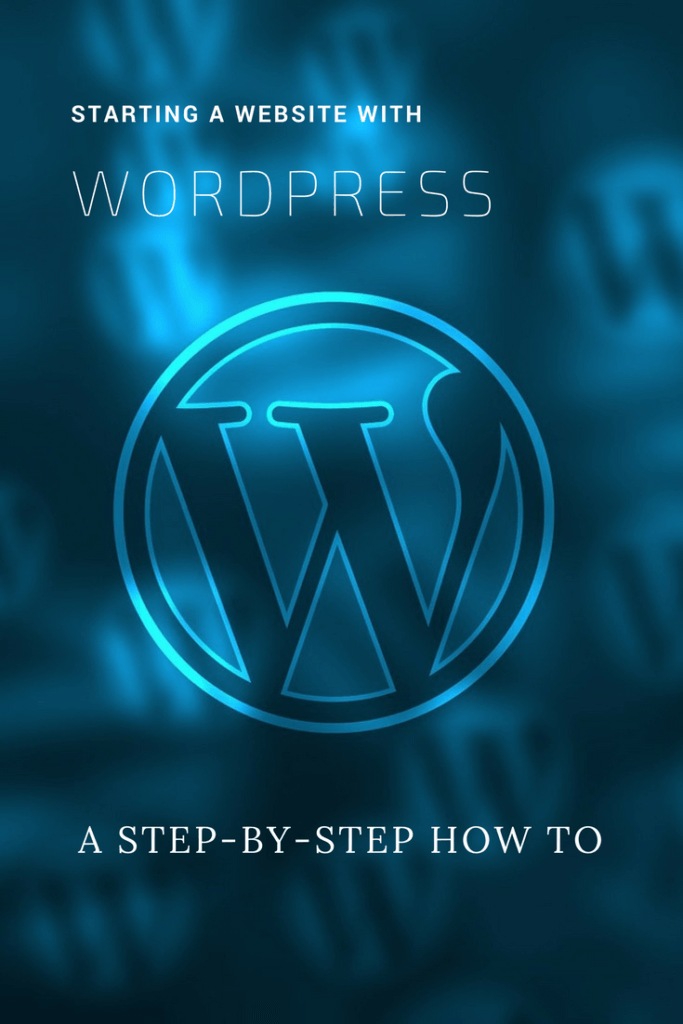 WordPress is the most used web platform worldwide. That not only speaks to how easy it is to use for all skill levels, but it also means that it's the most supported and has the most 3rd party add-ons and customization possibilities….without needing to know how to read or change code. And if you do learn a very basic level of coding, your WordPress world is your oyster.
(Hint: I'll be covering that in my premium courses that I'll be releasing later this year. Want to know more? Sign-up here — make sure to check the "online business" option.)
Now that I've convinced you that WordPress is the way to go, which I'll do again closer to the end of this guide, there's one more concept you need to understand before getting into the nuts and bolts of starting your website.
Hosted WordPress vs. Self-hosted WordPress website
A hosted website is a website you can get for free by going to WordPress.com. They have free themes available for you to choose from, and you can add your own information and content so that everyone can read it.
However, these are also very limited in customization and monetization. You can't change the themes beyond what is already built-in to them. The URL will look something like
yourbusinessname.wordpress.com
instead of
yourbusinessname.com
The possibilities of changing functions and performance are fairly non-existent, and you can't integrate any e-commerce or email marketing. Basically, you don't actually own your website. Just like you don't own your Facebook page.
For these reasons, it's better to have your own self-hosted WordPress website, which you actually do own, and that's what this guide will cover.
Designing and building your website
It's a pretty easy process once you've gone through it, but it can be pretty intimidating and confusing your first time through. I've gone into quite a bit of detail at each step so that you have enough vocabulary, education, and confidence to do this on your own, or at the very least know what to search for on Google and support forums.
This guide will cover the following topics, and you can click the buttons to go directly to that section.

Buy your domain from a reputable marketplace:
Buy web hosting from a well supported company:
Install a Content Management System (CMS) to build your site on

I would personally choose WordPress 99.99% of the time.
Then install a premium theme and customize once you feel comfortable.

Put it all together for a working site
---
1. Buy your domain name
In some ways, your domain name really matters. In other ways, not so much. It should be relevant to your business, product, or service, but it doesn't need to be hyperfocused. What if you need to pivot or rebrand later on down the road?
Bad examples:
VanLife2018

What happens once January 2019 rolls around?
HowToBuildWordPressSites.com

But then you want to start posting about social media marketing
iLoveMemes.com

And then you realize you can't actually have a business selling memes…as fun as that would be
Good examples:
VanLife.Academy

I can write about anything VanLife related: building a van, the lifestyle of living on the road, and/or how to make money online while living in a van

DavidSandel.com

My brand is my name, and I can do anything with it — offer products, sell services, host affiliate links, whatever I'm comfortable attaching my name to publicly

LowGravityAscents.com

This one is good, but only within its niche. However, that niche encompasses action sports, outdoors, and adventure travel. It's broad but targeted at the same time.
How and where to buy your domain name
If you do a Google search for "buying a domain name" you'll get a ton of results. Established, legitimate marketplaces as well as start-ups and back alley black markets. Domain names are CHEAP so don't try to save $1 by going with a shady looking site. Stick to the big names:
Just type your desired domain name into the search bar and see if it's available. If it is, proceed to checkout. If not, keep searching.
Once you find your new domain, register it privately. It won't keep all scammers, spammers, and hackers away from your private information, but it's a good place to start.
Next…
2. Website Hosting
Your "host" is where your website lives. Let's imagine it this way:
Pretend you use Photoshop, which is installed on your computer. In this regard, your computer is the host because it's hosting the program. You can't host your website on your own computer because millions of people around the world are going to try accessing it all at once. Your computer isn't up to the task. This is why you need to rent space on a server or in the cloud.
How and where to buy website hosting
Just like the merchants selling domain names, there are a ton of good, bad, and ugly hosting providers out there too. And just like domain name providers, hosting does NOT cost a lot of money. Don't try to save a buck at the cost of poor hosting. It can bite you in the ass when you need it the most.
These hosts (and a few others) are the best for setting up a catch-all website, blog, and e-commerce store. Especially WordPress. (More on this later.) If you're doing something else that's very specific, then you may want to look into hosts that specialize in your specific thing (hosting apps, online games, big user-generated data repositories, etc.).
Why choose SiteGround, Bluehost, or WP Engine
I was a customer with Bluehost for 8 years before switching to SiteGround. During that time, I only experienced one single outage due to 25,000 people trying to get to my site all at once, not their service. I contacted their support, they upgraded my hosting package, and I was back online in no time. I've also referred several clients to them, and they've never had any issues either.
So why the switch to SiteGround? Well, Bluehost's support was no longer meeting my needs. They either had unknowledgeable or poorly trained techs, and rarely could they answer my questions, or on more than one occasion, actually broke my site. Not cool. I'm leaving them here as an option because they still routinely get mentioned as one of the best hosts on others' websites.
I have no firsthand experience with WP Engine, but I know other developers and people I wholeheartedly trust that choose WP Engine over Bluehost. Which tells me they must be amazing too. I don't think you can go wrong with either choice. They both have:
24/7 technical support
Optimized server performance for hosting WordPress websites
Free SSL server (for accepting credit card transactions on your site)
Fast and easy upgrade packages should your site go viral or grow in immense popularity
Firewalls and first line of defense against hackers and viruses
The temptation of GoDaddy and NameCheap
It's very tempting to keep your hosting right at GoDaddy and NameCheap. They make it super easy to upgrade and offer to perform a lot of other services in order to keep you there. They also bombard you with a ton of marketing.
I'm sure that for 80-, 90-, 99% of the time, their hosting service is just fine. But I can tell you, dedicated hosting services always perform better than those offering to bundle stuff together. And again, it's cheap. You might as well go with a dedicated service for the same price.
3. Website Content Management System (CMS) aka WordPress
WordPress, in general, doesn't do anything. It's actually just the frame of your house. Without siding and a roof and interior decorations, you can't really live there. And neither can your website.
A WordPress website is made up of the framework, a theme (the roof and siding), and plugins (interior design). And then later, possibly some custom coding once you get more comfortable with your site.
WordPress Themes
The theme is the thing that your users and visitors will see when they visit your site. They can be free or premium, and sometimes you get get free premiums if they've partnered with another service like your hosting.
Personally, I steer clear of the free ones. Since they're free, everyone uses them, and even with customization, your site will look like many others. Premium themes have a lot of built-in functionality and eye-pleasing designs. It is a much better, faster, and longer lasting starting point than a free option. I have used and highly recommend the following themes and frameworks:
Elegant themes framework
Elegant theme Divi
The most complicated site I've built is on WordPress and has an e-commerce store with members-only area, is integrated with Stripe payment processing and Mailchimp email marketing, and I created a handful of custom programs and design changes.
4. Put It All Together
At this point you have a domain name, web server hosting, the WordPress framework, and a WordPress theme. But unless you've already followed the on-screen instructions to install WordPress while were setting up your hosting, none of these things are actually linked together. They are just 4 separate items sitting on the table and are completely worthless until you put it all together.
Point your domain name to your hosting account
I use GoDaddy to buy my domain names and Bluehost to host my site so the steps might be slightly different for you if you went with a different combination, but the terms and vocabulary should be pretty close so that you can search and find your way around.
First, open your domain provider account and your hosting account in separate tabs or windows. Then go to your hosting account and find your DNS nameservers. In Bluehost, it's Domains (1) > domain list (2) > nameservers (3). Write down, remember, or copy/paste the nameserver addresses (4) like you see below.
Now switch over to your domain provider and navigate to your domain(s) list and look for something to manage the DNS nameservers. Once you find it, enter the DNS nameservers you got from above, and 'save' them. This is what it looks like for GoDaddy:
Install SSL before you go any further
You can do this at any point, but it's just simpler to do right now while the hosting page open…and before you've installed WordPress or setup site speed and SEO optimizations like Google Webmasters.
With Bluehost, it's super easy. At the top of the dashboard or Domains screen you were just at, next to domains, is "addons." So, go to addons > addons > and find something about installing free SSL. Choose the domain you want to install it on (if you have more than one), and follow the prompts on the screen.
Installing WordPress with Bluehost or WP Engine
Bluehost and WPEngine have 1-click installations of WordPress and free or discounted premium themes.
As you go through the installation process, make sure to write down the username and password they give you. You can see when they give it to you in the video below.
Install your WordPress Theme
No matter what theme you go with, the process of installing it is always the same. First go to your admin panel by typing in the following in the address bar. Then log in with the credentials they gave you when you installed WordPress:
YourBusinessName.com/wp-admin

where you type in your own domain name in place of 'YourBusinessName'
Once logged in, on the left side of the page near the bottom is a link for Appearance > Themes. Click it.
By default, the WordPress theme from the current year will already be active. You can either click on "Premium Themes" to search for more, "Upload" to upload a theme that you've downloaded already, or "Customize" to use the one provided.
If you bought and downloaded one of the themes or frameworks I listed above, you'll want the "Upload" option. The screen will provide instructions to finish it off.
Finding support
For additional help and support, don't hesitate to utilize the 24/7 support from your host. Most WordPress theme providers also have tremendous support, especially if you buy a premium theme like I listed above. They typically have a ton of support documents and community forums on their own websites too.
And if you really get in a bind and are for some reason embarrassed to talk to them, you can always get in touch with me.
Also at this point, you can't really break anything, so I highly suggest this trial and error approach to truly learn the in's and out's of your website. If you do manage break something at this point, everything is still "fresh" so if you have to re-install or wipe your server clean, you won't be losing years worth of content, SEO, and hard work.
What comes next
I don't want to jump the gun, but if you're really interested in creating an online business, you're going to need to install and integrate an email CRM, e-commerce, payment processing, and/or several other business components.
You're also going to want to follow SEO best practices right from the beginning, pay attention to analytics, and come up with a marketing strategy to spread your word far and wide. Probably some design changes and customizations too.
Ask me all your questions
[contact-form-7 id="2958" title="Blog Post - WP Design"]